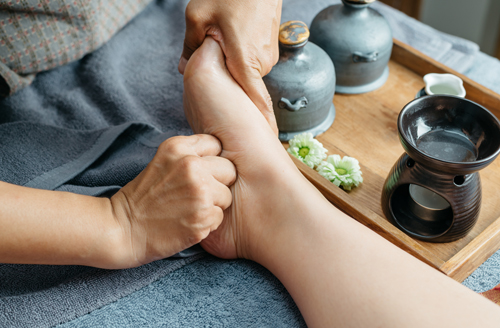 Thai Foot Reflexology
stimulates the central nervous system • boosts circulation • increases energy
Thai Foot Reflexology is often used to improve nerve function, eliminate toxins, prevent migraines, improve sleep, reduce depression, and relieve pain.
Learn More
---
Thai foot reflexology is an ancient, manual technique based upon the concept that the body is reflected as a system of reflexes on the feet. By pressing on those reflexes, one is able to bring about relaxation and greater balance to the body, and also assist in overall detoxification and stress reduction.
Benefits
Some of the benefits of reflexology include its ability to stimulate nerve function, increase energy, boost circulation, induce a deep state of relaxation, eliminate toxins, stimulate the central nervous system, help prevent migraines, help relieve sleep disorders, reduce depression, and relieve pain.
Cautions
CONTAGIOUS SKIN DISEASE, ATHLETES FOOT OR VIRAL WARTS, SEVERE PSORIASIS ON THE FOOT, ANY ACUTE FOOT PAIN OR INFLAMMATION, SEVERE VARICOSE VEINS, RECENT FRACTURES, HEMATOMA, HIGH TEMPERATURE OR FEVER, COLD, FLU, OR UNDER THE INFLUENCE OF ALCOHOL.
---
60 Minutes: $70.00